Surf Zombies and Other Horrors
Click on the Book Cover
To be taken directly to the Publisher's Web Page where you can read some sample pages and order your copy of the book directly!
What Scares You?
Collection of Urban Horror Tales Provides Chills -
Bats, werewolves, Gothic castles; monsters made by Man, and monsters slipped in through the cracks of nature. These are the usual iconography of the Horror genre. In his book, Surf Zombies and Other Horrors (now available through AuthorHouse), Joseph Moore offers instead a glimpse at the terrors possible in our everyday lives.
Eight short stories revolve around lives that suddenly find themselves at the mercy of forces too frightful and powerful to be reasoned away with formally admitted logic. The book opens with a Young Urban Professional couple that encounters an unadvertised feature of their new bargain cell phone. In "Barbie Bites," a fashion model nearing the highest rungs of success is burdened with a wish granted. Two couples on a weekend getaway find that the tools they need to survive the trip cannot be purchased at REI in "Death Takes a Camping Trip." The central story, "Surf Zombies of Quarter Moon Beach," shows what can be cooked up when surfers, a religious cult and water pollution are ingredients added together and mixed on a moonless night.
Throughout the book, Moore exposes commonly held assumptions regarding reality and the prevailing values in modern society to mockery by our fears. The vain, the materialistic and the hypocritical get their comeuppance, but as with the true horrors present in modern day life, the innocent are not always spared.
"It's crisis more than calm, pain more than pleasure that carve our character," writes Moore, "and if we can undergo that through fiction rather than direct experience, so much the better. It's in the shadows and dark corners that the true gold shines."
ISBN 1-4107-0783-0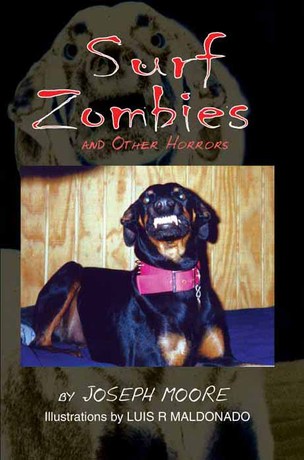 Surf Zombies and Other Horrors
Can be purchased directly from the publisher by clicking on the link or the cover below, or from your favorite book seller.